Gigabyte je ovdje otišao korak dalje i zapravo kompletno redizajnirao karticu, PCB i hladnjak te na nju "zakeljio" jedini bitni dio koji nisu mogli promijeniti, a to je Maxwell GK214 GPU čip. GTX 970 G1 Gaming stvarno je glomazan primjer Maxwellove perjanice jer kao što možete vidjeti na sebi nosi čak tri 80 mm ventilatora koji svoj posao odrađuju i više nego dobro. Ovo je jedan od tiših modela na tržištu, a ujedno karticu ostavlja hladnom pri opterećenju te omogućuju veći overclocking potencijal.
Kada smo se već dotakli overclockinga, ovaj model tvornički dolazi s dota povišenim radnim taktova na čak 1178 MHz za osnovni, odnosno 1329 MHz za Boost radni takt. Ovi taktovi mogu otići još više jednostavnim povećanjem power limita u programu poput MSI afterburner, gdje se krajnji radni takt penje bez problema i iznad 1400 MHz. Ne idu sve pohvale za ovakve rezultate na račun ventilatora već i prema dvama 8 mm i četiri 6 mm heatpipeovima te velikom masivnom aluminijskom bloku i metalnoj vanjštini zbog kojih G1 Gaming uspijeva postići takve performanse.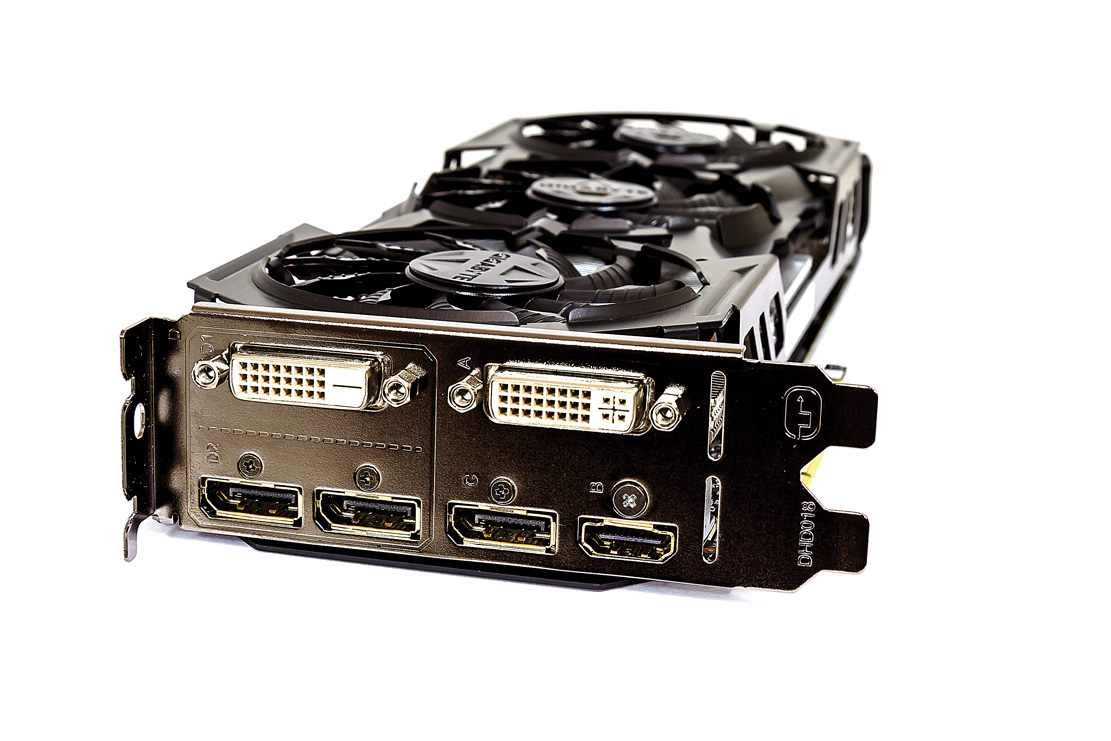 Izlaza boli glava

Nema čega nema, a impresivnije je vidjeti čak tri DisplayPorta

Jedan od noviteta je svakako i metalni backpanel štit, odnosno ploča koja karticu čini rigidnom da se ne savija pod vlastitom masom te pomaže pri izvlačenju dodatne topline s nje. Na njoj ćete naći veliki G1 Gaming logo, kao i Gigabyteovo "oko" te dosta zanimljiv i oku privlačan dizajn te same metalne ploče.

S bočne strane kartice možete vidjeti veliki WindForce logo koji se može upravljati putem GeForce Expirience softvera i LED Visualizer opcije. Na suprotnoj strani od toga naći ćete jedan 8 i jedan 6-pinski PCI-e power konektor. Iako joj u teoriji ne treba ovaj 8-pinski, uslijed overclockiranja može doći do povećane potrošnje tako da je uvijek dobro imati "malo lufta" u tom području. Što se same potrošnje tiče pod stock vrijednostima, kao i obično iz nekog nama nepoznatog razloga Gigabyteova kartica vuče dosta više struje nego konkurencija, a u ovom slučaju čak 250 W, što je skoro 100 W više od referentnog dizajna i originalnih 145 W TDP-a.

Od video izlaza imamo čak tri DisplayPorta, dva DVI konektora, od čega je jedan u mogućnosti propuštati analogni signal uz pomoć DVI-I to VGA adaptera te jedan HDMI izlaz. Od dodatne opreme dobit ćete upravo taj adapter, uputstva i CD s driverima te power adapter u slučaju da nemate 8-pinski konektor. O performansama nećemo puno pričati, rezultati iz tablice dovoljno govore za sebe, kao i činjenica da je kartica u rangu s R9 290 / 290X, tako da ćete si ovim modelom osigurati barem dvogodišnje bezbrižno igranje.

Iako je ovo Gigabyteova posebna edicija GTX 970 grafičke kartice, cijenom je i dalje ostala prizemljena, pogotovo u usporedbi s konkurencijom, a zapravo ništa drugo nismo niti očekivali od Gigabytea; po tome zapravo i jeste poznat na ovim prostorima. Iako je otprilike 300 kuna skuplja od najjeftinijeg modela GTX 970 u ponudi na našem tržišta, neka vas to ne sprječava ulasku u uži izbor.