Podržane rezolucije videa su 5,2K u 30 fps-a i 3K u 60 fps-a te fotografije 18 Megapixela u RAW i jpeg formatu. Timelapse je dostupan u intervalima od pola, jedne, dvije, pet, deset, 30 ili 60 sekundi.

GoPro Fusion

ima vrlo dobru liniju spajanja sferne fotografije, a u to se možemo i uvjeriti pogledom prema dolje gdje je naš autić najbliži objekt kameri


Punjenje baterije riješeno je putem USB-C porta, kao i prebacivanje materijala na računalo.

Spajanje kamere s mobitelom ograničeno je samo na neke modele Android telefona te iOS uređaje, stoga biste trebali na web stranicama provjeriti je li vaš mobilni uređaj na popisu. Ako nije na popisu, sve opcije snimanja dostupne su vam i kroz tri gumba kamere i monokromatski LCD.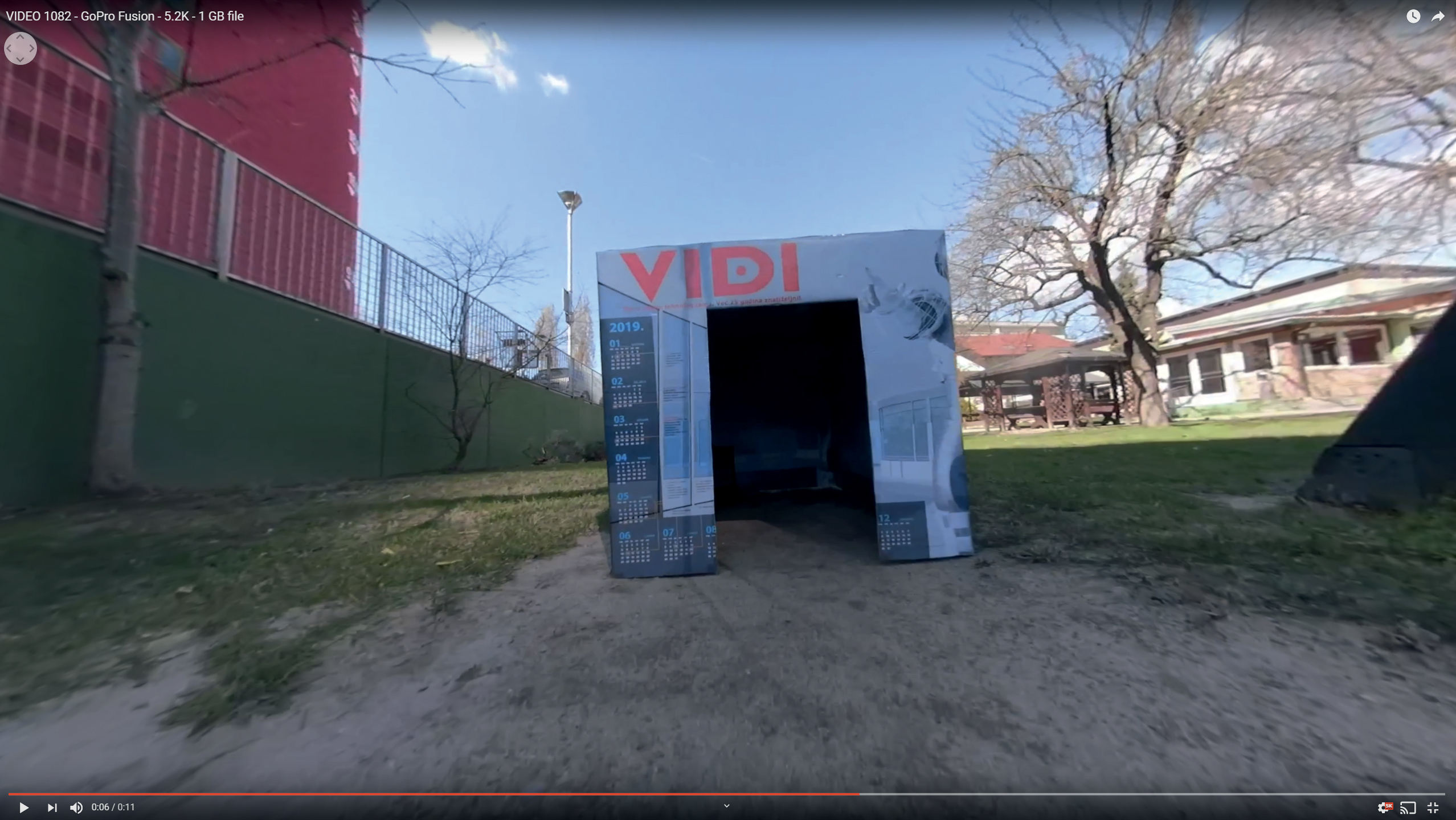 Frame

izvučen iz videa u pokretu pokazuje nam prilično oštru i vrlo dobro stabiliziranu fotografiju

Na taj način možete mijenjati ProTune opcije te namještati ekspoziciju i ISO vrijednosti za profesionalnije snimanje ili postavke snimanja prepustiti automatici. Kad spominjemo ISO, možete birati među 3 vrijednosti: 400, 1600 i 6400.

Stabilizacija slike je digitalna te ju radi Fusion Studio, a možete odabrati Anti-Shake, Full Stabilization ili bez stabilizacije. Naš ekstremni test stabilizacije pokazao je kako je stabilizacija na vrlo visokom nivou te snimke izgledaju impresivno.
Fusion

pak ima najsvjetlije fotografije što je rezultiralo potpunim spaljivanjem svijetlih dijelova slike


Kako bi uopće mogli snimati potrebno je imati 2 Class 10 ili UHS-II/III microSD kartice koje, u trenutku pisanja teksta, dobijete uz kameru.

Nadamo se da će tako i ostati te da to nije samo prolazna akcijska ponuda jer govorimo o kameri kojoj cijena ipak nije baš sitna, no možemo reći da se isplati imate li ideju za dobru avanturu koju morate pokazati svijetu.
Tamni uvjeti

pri ulasku s danjeg svjetla u našu Vidi garažu primjećujemo kako je ISO narastao na maksimum, no slika je i dalje dobra


Jača strana joj je besplatni Fusion Studio Software s kojim možete napraviti sferni 360 video u 5,2 K rezoluciji koji je odmah spreman za upload na YouTube. Video možete renderirati s CineForm 422 High ili ProRes 422 kodecima, a ako odaberete H.264 codec, dostupna je samo maksimalno 4 K rezolucija.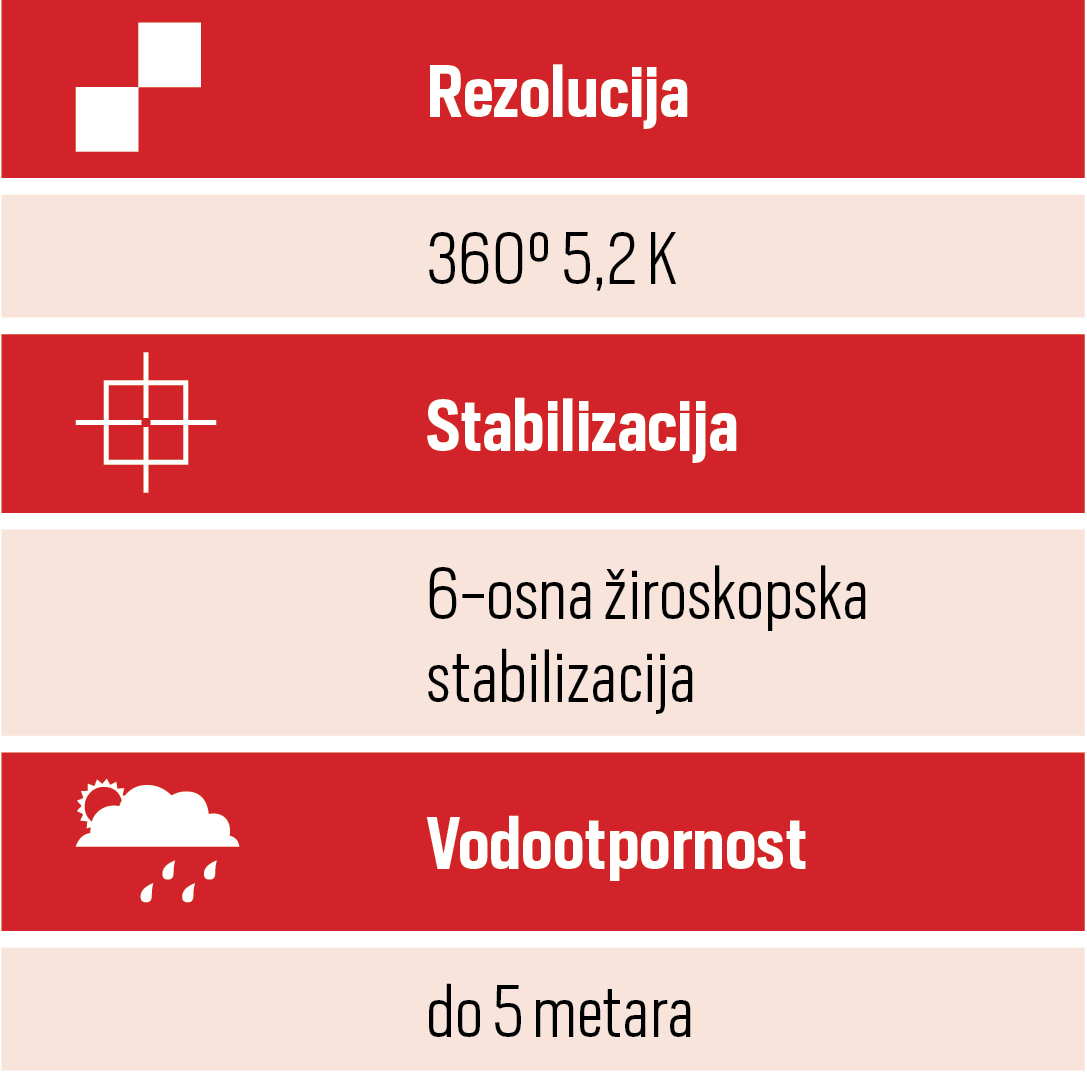 Odaberete li Overcapture način renderiranja, dobit ćete klasičan 4K ili Full HD video od kojega možete napraviti "maleni svijet" video ili pak naknadno odabrati kut gledanja kamere te tako dobiti, recimo, Full HD kadar prema želji s te sferne slike. Naravno, prisutan je efekt ribljeg oka, no s obzirom da se FOV (kut gledanja) može korigirati prema želji, rezultati mogu biti impresivni.

Postoje i pluginovi za Adobe Premiere Pro i After Effects alate ako vam Fusion Studio nije dovoljan za vaše potrebe video montaže.