Nakon dugo vremena konačno i jedna non-mehanička gamerska tipkovnica na našem testu. Iako je Roccatov Isku relativno star model, nedavno je na naše tržište stigla i njegova druga inačica koja donosi kompletno RGB osvjetljenje tipki. Da, ne možete pobjeći od ovog trenda, čak niti u sferi cijenom nešto pristupačnije periferije u odnosu na one ostale kod kojih obično znamo viđati ovakav feature, a koji su ujedno sve samo ne jeftini.
Iako membranske tipke ne predstavljaju zadnji krik mode, pogotovo kod gamera, to ne znači da su išta lošije od svoje kliktavije mehaničke braće; baš naprotiv, ako se nas pita. Možda najveća prednost u odnosu na njih je udobnost prilikom tipkanja koju donose, ali i činjenica da su po pitanja gabarita odnosno u profilu puno tanje obzirom da ne trebaju utrpati mehaničke sklopke u svoju konstrukciju.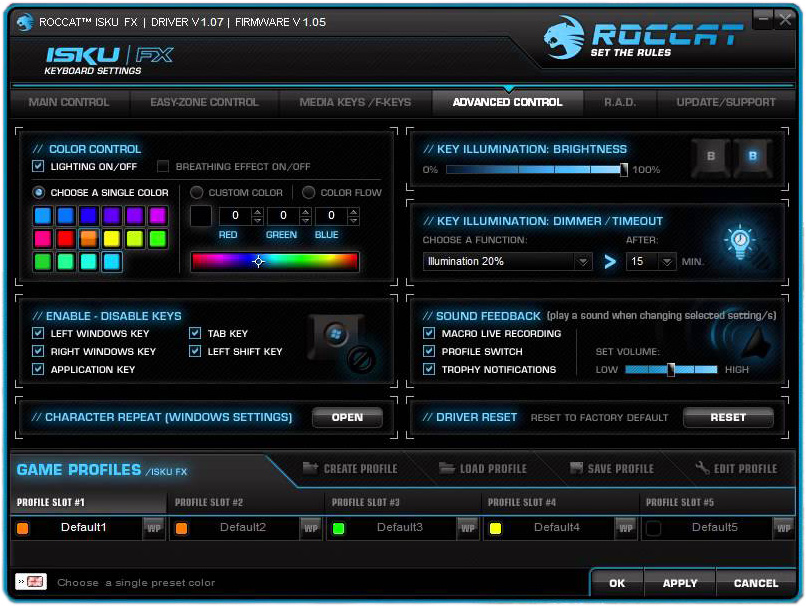 Odličan softver

Roccat stoji uz bok s najvećima po pitanju upravljivosti i mogućnostima

Ostavljajući to po strani, Roccat Isku FX klasičan je proizvod ovog renomiranog branda, kvalitetne je izrade, ima oku ugodan i jednostavan dizajn te praktične dodatke u obliku dediciranih macro i ostalih multimedijskih tipaka, a sve to upakirano u sklopu Roccatovog odličnog softvera. Uz pomoć njega ćete dobiti pristup mogućnosti po kojoj je ovaj model drugačiji u odnosu na ostale, a to je da možete promijeniti pozadinsko osvjetljenje tipki u jednu od 16,8 milijuna boja. Iako to neće "napaliti" svakog korisnika, pogotovo da bude spreman odvojiti još 100-200 kuna više, gameri među nama odmah će se pronaći u ovom modelu.