Dellova oznaka serije XPS već je neko vrijeme oznaka za ekskluzivne uređaje, pa to vrijedi i za model 15 koji ima uglađeni izgled, vrlo dobar ekran i snažne performanse. Sve to dolazi uz povišu cijenu.
Sam dizajn podsjeća na poslovni, ali ipak polako vuče na multimedijsko konzumerski dio laptop spektra. Izvana je obrađeni aluminij, dok je baza od karbonskih vlakana. Odmorište za ruke je prevučeno silikonom i u crnoj je mat izvedbi, dok ekran ima Gorilla Glass zaštitu. Djeluje iznimno čvrsto, a minimalistički dizajn s velikim touchpadom i malom pozadinski osvijetljenom tipkovnicom ostavlja stilizirani dojam.
S obzirom na posebnu grafičku karticu i prilično snažan hardver, ne čudi masa od 2,1 kilograma. Ukupan ergonomski dojam je vrlo dobar, jer je i dalje relativno malen za 15,6 inčni prijenosnik. Prava priča za sebe je ekran koji u ovoj XPS seriji može ići do velike rezolucije od 3200 x 1800 piksela. Na konfiguraciji koja je nama stigla na test, radi se o dodirnom truelife LED ekranu s FullHD rezolucijom, realnim prikazom boja, dobrim kontrastom i kutovima gledanja.
Ispod ekrana se nalazi vrlo udobna tipkovnica kojoj su glavna mana mali razmak između tipaka. Doista prostrana unutrašnjost XPS 15 prijenosnika zaslužila je nešto veću tipkovnicu čime bi do izražaja došla kvaliteta izrade. Zato je touchpad priča za sebe, velik je, prostran i iznimno responzivan. Podržava geste s više prstiju i ovaj bi prijenosnik slobodno mogao dolazit bez dodirnog ekrana koji na Windowsima 8.1 ipak nekako odvlači posao od touchpada.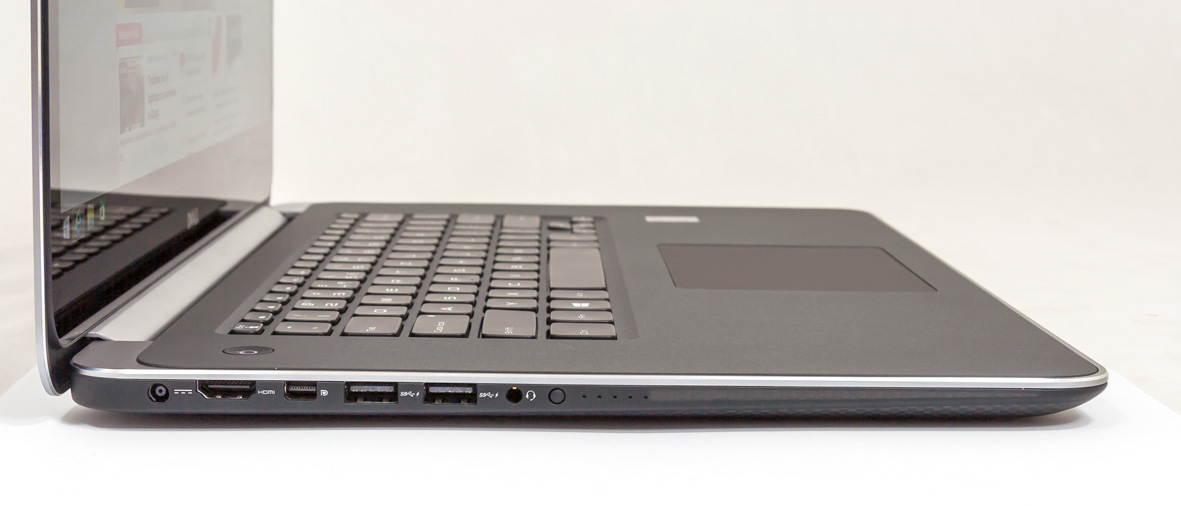 Ima sve

: Uz standardni set USB 3.0, HDMI izlaza i čitača
kartica tu je mini DisplayPort

Hardverski, XPS 15 je snažan stroj. Pokreće ga četverojezgreni Core i7 4702HQ Haswell generacije, tu je dedicirana grafika iz Nvidie GT750 koja je dovoljna za bezbrižan gaming, kao i 16 GB radne memorije. Za spremišni prostor laptop kombinira 32 GB SSD i terabajtni HDD, pa bi ovaj prijenosnik bez problema mogao poslužiti kao radna stanica, gamersko računalo, poslovni ili multimedijalni prijenosnik. Unatoč tom snažnom hardveru, XPS 15 dosta je dobro prošao na testu baterije, a među bogatim setom priključaka nalazi se i mini DisplayPort. Snažan hardver, vrhunska izrada i ekran glavne su prednosti XPS 15 prijenosnika, dok je cijena najveća mana. Zamjeramo mu i (pre)male razmake na inače kvalitetnoj tipkovnici. Želite li ultimativni all-around 15,6 inčni laptop, ovo je dobar odabir, naravno ako vam cijena nije prevelika prepreka.