Envy 17 veliki je 17,3-inčni prijenosnik koji u minimalistički dizajniranom kućištu nudi razne varijante hardvera u rasponu od i5 do i7 Intelovih Core procesora, Nvidijine dedicirane grafike i barem 8 GB radne memorije. Na test nam je stigao prilično snažan, no ne i među najjačim Envy modelima, s Core i5-5200U procesorom, a glavni adut mu je odličan FullHD IPS ekran.
Čvrsti sivi poklopac ekrana napravljen je od aluminija. Za razliku od sivog poklopca, unutrašnjost je matirana imitacija drveta koja uz zvučnike ispod ekrana, čitač otiska prstiju, tipkovnicu i touchpad ima samo još natpise Envy i Bang & Olufsen. Na površini se primjećuju packe, no kako je tamna to će smetati samo kada se gleda pod određenim kutom. Puna chicklet tipkovnica ima nešto manje tipke za smjer, dosta je udobna i nema uvijanja, no nije među najboljim rješenjima na tržištu. Ispod je duguljast poveći touchpad, sav izveden u jednom komadu, koji vrlo dobro obavlja svoj posao. Iznad su spomenuti zvučnici, a s obzirom da se ovaj desktop replacement "kolje" s klasom multimedijalnih prijenosnika, dobro je što su vrlo glasni. Šteta što iz njih, baš iznad B&O loga (zamijenio Beats Audio), nije bolje pokriven širi spektar tonova. Audio iskustvo je dobro, ali postoji prostor za pomak.
U unutrašnjosti kuca spomenuti dvojezgreni Core i5 Broadwell generacije u kombinaciji s 8 GB radne memorije i vrlo solidnom Nvidijijinom grafičkom karticom GT940M s kojom smo čak i na high postavkama igrali u pristojnom framerateu Crysis 3 (defaultno je bilo postavljeno na low settings).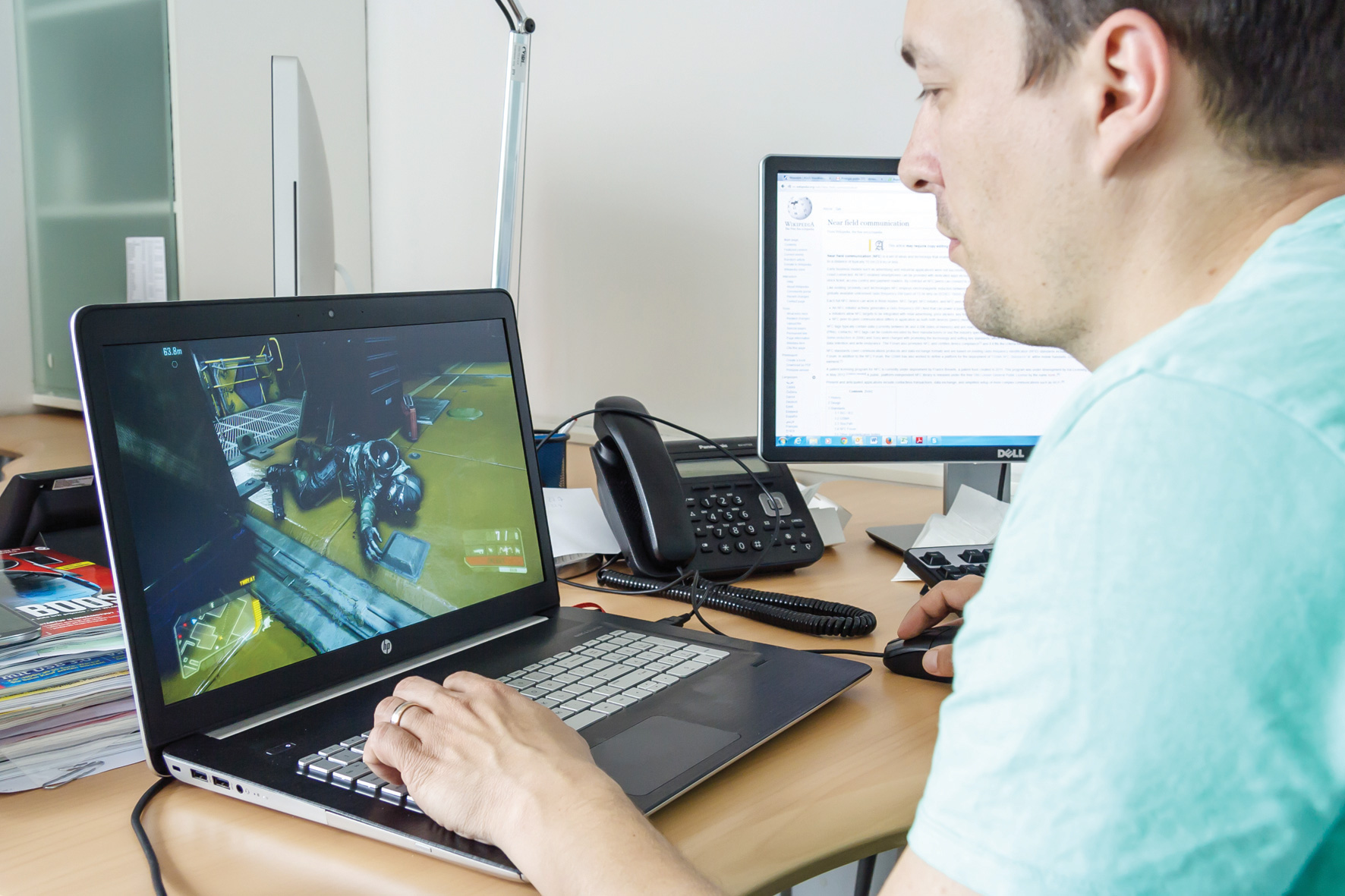 Crysis 3

Nije trzao niti na high postavkama. Pisanje teksta ili jedan stealth kill? Hmm....

Postoje razne Envy 17 konfiguracije, ova testna dolazi s HDD-om od 750 GB, no češći su modeli s terabajtnim diskom ili SSD-om.
Ekran je možda i najjača stavka, veliki 17,3-inčni s odličnim kutovima gledanja, vrlo dobrom svjetlinom i prikazom boja. S obzirom da se radi o ovako velikom prijenosniku, nije mu minus ni izostanak touchscreena koji bolje ide uz manje prijenosnike.
Imitacija drva

Kvalitetna izrada Envy prijenosnika vidljiva i u unutrašnjosti. Tu je i poveći, i uz to vrlo dobar, touchpad

Envy je sinonim za jače HP prijenosnike, što znači da mu niti cijena nije niska, no u ovom slučaju nije razočarao ponudom za taj iznos. Čak je i trajanje baterije za ovako velik prijenosnik solidnih 4 sata na našem custom testu.